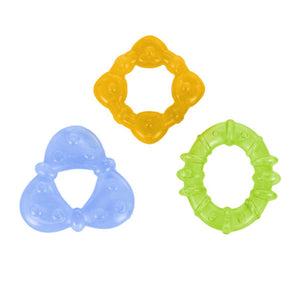 Features:
* Teether designed with bright fun colours to attract the baby.
* The water contained  in the teether helps to soothe your baby's teething discomfort.

To clean:
* Clean after each use.
* Use warm water and soap to wash it and rinse thoroughly with clean water.

Warning!
For your child's safety and health:
* Not suitable for microwave or steam sterilization.
* Do not boil.
* Do not place in the dishwasher.
* Cool only in refrigerator and NEVER in the freezer.
* Inspect before each use and discard at the first sign of damage or ripping.
* Avoid the use of sharp or abrasive materials when cleaning.
* The use of this product must be supervised by an adult.